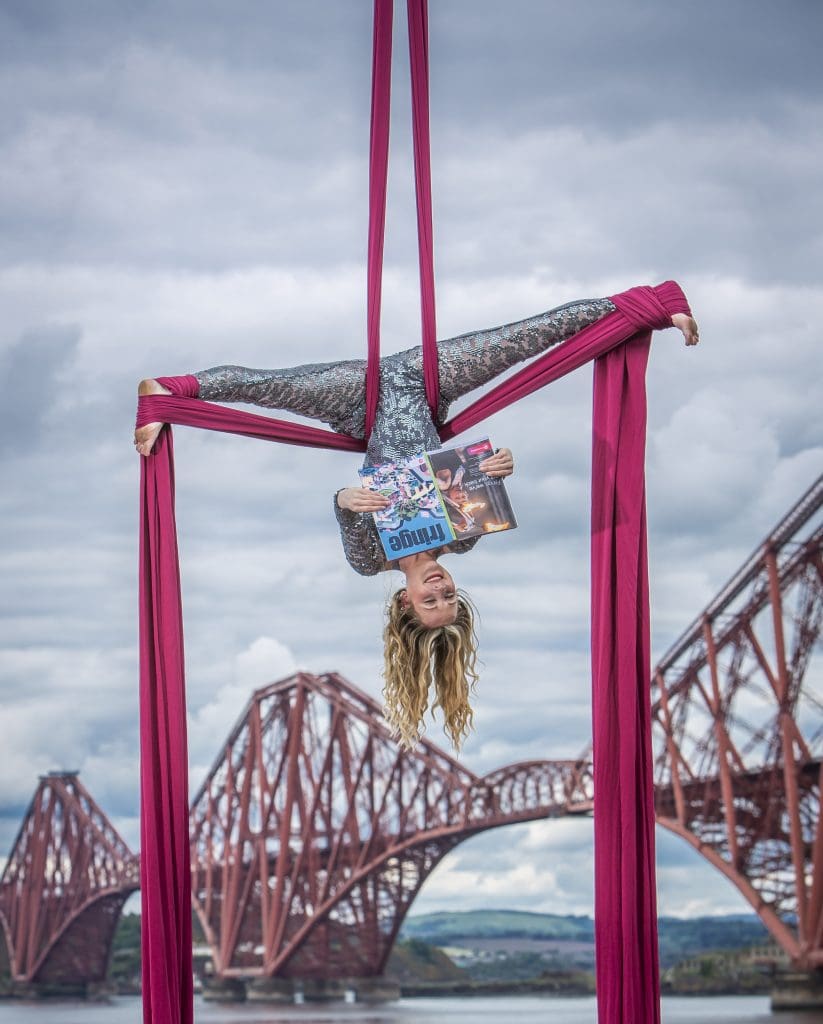 The Fringe sparked into life today with the launch of the official 2019 Edinburgh Festival Fringe Programme, featuring a diverse selection of work from the worlds of theatre, dance, circus, physical theatre, comedy, music, musicals and opera, cabaret and variety, children's shows, spoken word, free shows, exhibitions and events.
This year's Fringe features work from a record 63 countries, including 206 shows from mainland Europe. With themes ranging from climate change to true crime, space to Black, Asian and Minority Ethnic identity, this year's festival tackles the most topical issues in the world today and brings together the best upcoming talent, well-known names, new venues and international work.
In order to help audiences navigate the festival and take a chance on something new, the Fringe Society have introduced the Inspiration Machine, an interactive, arcade-style machine that will randomly display videos from Fringe artists at the push of a button. The Inspiration Machine will be located on the Mound throughout August as well as online, and Fringe-goers young and old will be invited to roll up and see all that the Fringe has to offer.
Also new for 2019 is the FringeMaker game, which will encourage visitors to explore different venues, see shows and tackle random Fringe challenges using a dedicated web-based app. In true treasure hunt style, players will be rewarded for breaking new ground and discovering hidden top hats located in each of the over 300 venues taking part in this year's festival.
A fantastic starting point for any Fringe-goer, the Virgin Money Street Events on the High Street and Mound Precinct will bring together 250 free shows a day from the world's greatest street performers for all the family to enjoy. Every Saturday shows on the West Parliament Square Stage will be fully BSL interpreted and, with dedicated wheelchair viewing spaces and sensory backpacks for visitors on the autism spectrum, the street will be more accessible than ever before this year.
Fringe Central is the festival's home from home for artists, journalists, fringe participants and visiting curators. At the heart of the festival, Fringe Central – our dedicated participants' hub – will play host to over 1,000 national and international media representatives, and 1,400 arts industry professionals looking for shows to book, co-commissioning and touring opportunities, making the Fringe one of the world's foremost places for performing artists to do business. This year's Fringe Central programme will feature strands such as "Health and Wellbeing" and "Breaking Down Barriers", the latter of which will focus on topics including disabled-led theatre-making, intersectional identities and diversity in the Fringe media landscape.
Launching the 2019 Fringe Programme, Shona McCarthy, Chief Executive of the Edinburg Festival Fringe Society,said: "The Fringe is a remarkable feat of engineering and human endeavour, and this year we are celebrating all the artists, writers, crew, staff, venue operators, audience members and more who come together to Make Your Fringe.
"This year's festival will feature 744 shows from Edinburgh, 963 from Scotland and work from  record 63 countries, which collectively help make the Fringe the greatest celebration of arts and culture on the planet. From the growing threat of global warming to the personal stories of migrants making a new home in a strange land; the 50th anniversary of the moon landings to exploring sex and true crime stories, this year's programme will challenge perceptions, stimulate conversation, entertain, make you laugh, make you cry and inspire you."
Fiona Hyslop, Cabinet Secretary for Culture, Tourism and External Affairs, said:
"The Fringe is an economic powerhouse, generating £144 million for the Edinburgh economy and £173 million for Scotland's economy.
"This year, the programme demonstrates once again why it is one of the most important events in the international cultural calendar. Innovation and creativity will provide unforgettable moments for festival goers and will raise Scotland's standing on the world stage.
"The Scottish Government supports the Fringe through the EXPO funded Made in Scotland programme, a curated showcase of Scottish theatre dance and music.  In 2019, the programme offers 22 shows that are made and produced in Scotland."
Cllr Donald Wilson, Culture and Communities Convener, City of Edinburgh Council, said: "Yet again the Edinburgh Festival Fringe promises to enthral, entertain and educate audiences young and old across the capital
"This year's Fringe programme offers something for everyone, regardless of their age or interests, and I particularly welcome the Inspiration Machine as a means of boosting exposure of all that is on offer and the new FringeMaker game which will encourage even further participation. Both of these initiatives are a reflection of the Fringe itself – be willing to take a risk or two on new experiences and I'm sure both residents and visitors will rise to the challenge.
"The emphasis on participation is great and one we have encouraged through initiatives such as the Platforms for Creative Excellence (PLACE) Programme. We know from our People's Survey that two thirds of residents have attended a festival in Edinburgh in the last two years, with 72% believing festivals make the Capital a better place to live. After checking out the diverse programme for this year, I'm sure local residents will continue to delight in everything the Fringe has to offer."
EXPLORE THE 2019 FRINGE PROGRAMME
SUPPORTERS
As a charity, the work of the Edinburgh Festival Fringe Society would not be possible without the valuable support of our partners, sponsors and funders, including title sponsors Virgin Money and, new for 2019, Johnnie Walker as our official whisky partner. Our thanks to the companies who generously support our work, including Contini, Just Eat, Amazon, Kickstarter and many more. We are grateful for funding through the PLACE Programme, a partnership between the Scottish Government – through Creative Scotland – the City of Edinburgh Council and Festivals Edinburgh; Scottish Government for Made in Scotland through the Festivals Expo Fund – managed through Creative Scotland – and the continued support of the City of Edinburgh Council. Our thanks also to our Fringe Angels, Patrons, Friends and supporters who help make the Fringe happen each year.
COMMUNITY ENGAGEMENT, ACCESS AND LEARNING
Community engagement
We continue to work hard to connect the Fringe to the people of Edinburgh through our Fringe Days Out scheme. To date, 5,594 people from over 30 charities and community groups across Edinburgh have been given an opportunity to visit the Fringe, and we have developed new resources to help our Fringe Days Out partners make the most of the scheme. Launched in 2017, the Fringe Days Out programme is a long term commitment by the Fringe Society to reach out to communities that have not traditionally engaged with the Fringe; we aim to double the value of the scheme to £100,000 by 2022 to support as many residents of our city to experience the Fringe as possible. To develop our work in this area, we have employed a permanent and full time Community Engagement Officer, funded through the PLACE Programme, a partnership between the Scottish Government – through Creative Scotland – the City of Edinburgh Council and Festivals Edinburgh.
Access
Following a positive reception in 2018, we have increased the availability of sensory backpacks for children and adults on the autism spectrum to 80 this year, and these will be available to pick up at venues across the city. Our street events offering will see BSL interpretation on the Mercat Stage every Saturday of the Fringe and accessible viewing mats on the High Street. Customers with access requirements can use the Neatebox Welcome app to book to see the Access Bookings team on the High Street, or to request assistance when visiting Fringe Central and the street events on the High Street.
This year's Fringe Central programme will feature a "Breaking Down Barriers" strand which will focus on topics including disabled-led theatre-making, intersectional identities and diversity in the Fringe media landscape. We are also hiring a temporary Changing Places toilet for the duration of the Fringe. This will be accessible 24 hours with a radar key and will be located next to Fringe Central throughout August. 61% of Fringe shows on sale are accessible to wheelchair users, with 49% of Fringe venue spaces currently accessible to wheelchair users. 35 Fringe venues are now signed up to our Venue Access Award, developed in partnership with Attitude is Everything, which promotes accessibility best practice across Fringe venues.
We are also delighted to announce a new way of searching for shows in the Fringe programme – No Hearing Needed/No Sight Needed will allow customers to find shows which have no additional adjustments but are suitable for D/deaf or visually impaired audiences. We will be showcasing our access services for customers at a special event at the Fringe Shop and box office on Saturday 13 July, 10am – 6pm. Everyone is welcome to stop by and find out more about what's on offer for customers with access requirements.
Learning
As part of our commitment to ensuring the Fringe is inclusive to everyone, we have employed a permanent, full time Learning Officer, funded through the PLACE Programme, a partnership between the Scottish Government – through Creative Scotland – the City of Edinburgh Council and Festivals Edinburgh. Our Learning Officer is working with schools and teachers across Scotland to ensure that schools take full advantage of the festival.
For the first time this year, performing slots on the High Street will be given to Scottish schools as part of the Virgin Money Street Events programme. These will be taking place on the Mercat Stage from 12:00 to 16:00 on 21 – 23 August. We have been working with Gracemount High School and, in 2018, over 200 pupils visited the Fringe, with the cost of tickets, food and transport covered by a private donation and facilitated by the Fringe Society. We are continuing this work with Gracemount and have extended it this year to Tynecastle High School as well.
All this work is part of our continued commitment to removing barriers to participation and ensuring that everyone is welcome at the Fringe, a key part of our long-term Fringe Blueprint.
VIRGIN MONEY STREET EVENTS
Following on from the success of last year's transformation of the High Street, the Virgin Money Street Events will once again return to the Royal Mile and the Mound Precinct, managed by the Fringe Society. The street events programme will comprise a stunning variety of world class street performances, with over 250 shows a day, which means you'll never be short of something to see.
The Fringe Stages at the lower end of the High Street host back-to-back Fringe groups providing a taster of their shows. Music, dance, theatre and comedy from the Fringe and beyond are scheduled on the Mercat Stage, next to St Giles Cathedral. Our four Street Performer pitches host some of the most spectacular street theatre performances from around the world and a variety of buskers can be heard throughout the High Street and the Mound. Performances run from 11:00 and finish with the spectacular Finale Shows on West Parliament Square and the Mound Precinct every day (except Sundays) at 20:15.
We're also maintaining and strengthening our commitment to making the Fringe accessible to everyone: we'll be reinstating the fully accessible stages and dedicated viewing areas for those with access needs, and increasing our provision of both sensory backpacks for autistic children and adults, and BSL interpretation at West Parliament Square every Saturday of the Fringe.
VENUES
We are delighted that a variety of new and unique venues will be opening their doors at this year's Fringe. Two of the new spaces are in Leith – Quality Yard, near the Shore, is a street art exhibition space; while The Old Dr Bells Baths makes use of a newly renovated former swimming pool on Great Junction Street to host a strong music line-up. Tynecastle Park, the home ground of Hearts FC, returns to host A War of Two Halves (p.410), while on a similarly sporty theme, The Grange Club in Stockbridge will pause hosting Scotland's cricket team to put on the Vibe Revue Supper Club at The Grange (p.31). At the more intimate end of the scale, the performers behind theatre show Arthur (p.317) are creating their own venue, Your Home, asking audience members to open their doors and host the show; Notre Dame de Paris aka The Hunchback of Notre Dame (p.209), on the other hand, will take place in a purpose-built circus big top and rig in St Patrick's Church.
Venues are also treating audiences to inventive outdoor shows that are set to change every time. During Transfigured – The Pack (Dance Base, p.213), audience members will be taken to the Grassmarket and a card will be drawn to decide what performance they will see. Meanwhile, escape room meets theatre in Standfast (C venues – C at Makars' Court, p.224), an interactive adventure on the streets of Edinburgh, inspired by the works of John Buchan.
Zoo launches a new venue, Zoo Playground, at the High School Yards on Infirmary Street, whose historic former pupils include Sir Walter Scott. A short jaunt away from its Lothian Road premises, Traverse at Edinburgh Sports Club in the West End presents Spliced (p.395), a show about hurling, masculinity and mental health. Pleasance has a new pop-up venue, The Greenhouse, located in the grounds of Dynamic Earth, which will include a programme of plays by BoxedIn Theatre, exploring environmental issues. Gilded Balloon has two new venues – Patter Hoose, which showcases comedy, theatre, musicals and cabaret, and Old Tolbooth Market, which hosts a 'Pay What You Want' comedy and spoken word programme. C venues explores an entirely different sort of fringe at C at SESH Hairdressing in site-specific theatre show Hair of the Wild (p.350), while Monkey Barrel expands from two to five venues on both sides of Blair Street with its comedy programme.
Several of Edinburgh's breweries, distilleries and whisky traders will open their doors to Fringe audiences this August. All Senses Ahead! (p.216) at The Scotch Malt Whisky Society will offer music and storytelling alongside Scottish food and drink tastings; and Jeffrey St Whisky and Tobacco will take audiences on an immersive historical tasting in Whisky Through the Ages (p.227). Aficionados of Scotland's national drink will also be able to take a dram in tasting events atHolyrood Distillery and the Robert Graham Tasting Room; while gin and beer fans will be able to sample their favourite tipples at Summerhall Distillery and Barney's Brewery (both at Summerhall).
FAMOUS FACES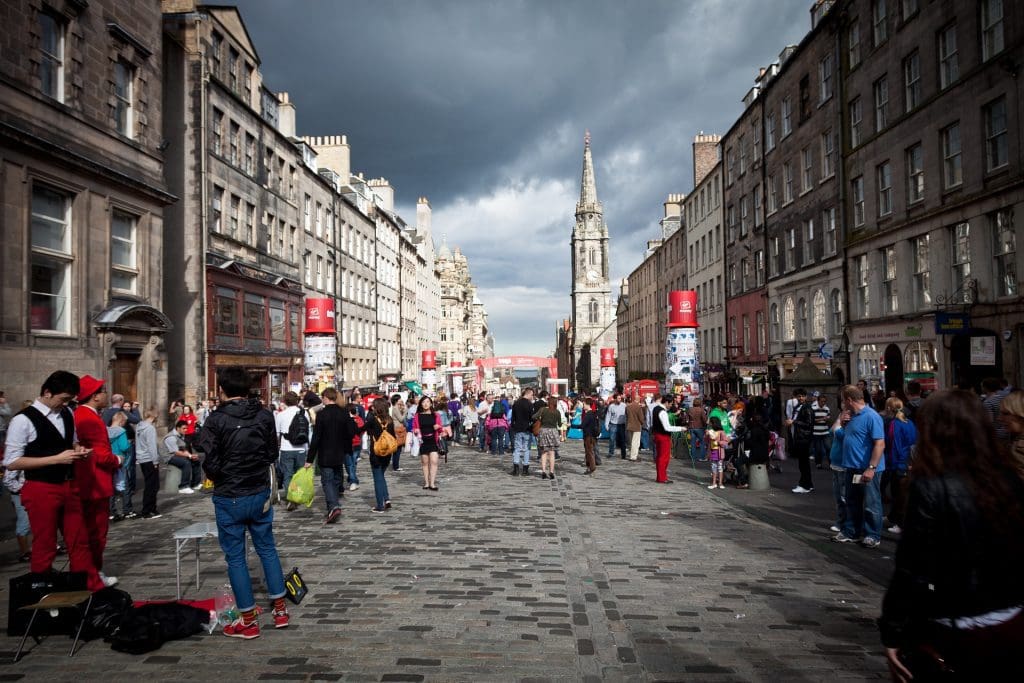 This year's Fringe Programme features a wealth of famous names from film, TV, comedy and beyond
TV and stage star Frances Barber performs in one woman show Musik (Assembly Rooms, p.374), featuring original songs by the Pet Shop Boys; comedian and writer Kathy Burke directs #HonestAmy (Pleasance Dome, p.354); and Game of Thrones' Podrick AKA Scottish actor Daniel Portman joins the cast of Square Go (Roundabout @ Summerhall, p.395), which returns to the Fringe this year. BAFTA and MOBO award-winning hip-hop artist and writer Akala brings spoken word show Akala – In Conversation – Natives: Race and Class in the Ruins of Empire (Gilded Balloon Teviot, p.296).
Stars from the US appearing this year include author, actress and #MeToo activist Rose McGowan, who will combine memoir and music in her Fringe debut Planet 9 (Assembly Hall, p.307). This year also marks first times at the Fringe for Parks and Recreation star Nick Offerman (Assembly Hall, p.153); actor and writer Eric Andre (Gilded Balloon at the Museum, p.98) and Phoebe Robinson (Assembly George Square Studios, p.160), the creator and star of podcast-turned-TV show 2 Dope Queens. Also making the journey from the US is award-winning Scottish-American comedian Craig Ferguson (Gilded Balloon at the Edinburgh Playhouse, p.86), performing his first UK stand-up show in over 25 years. Criminal Minds star Kirsten Vangsness brings her play Fempire: Cleo, Theo & Wu (Assembly Rooms, p.343); and Scottish actress Gayle Rankin, who currently appears in hit US Netflix show Glow, is performing in dark comedy Four Woke Baes (Underbelly Cowgate, p.344).
Making his first ever Fringe appearance is children's TV icon Basil Brush. The famous fox puppet is starring in two shows at Underbelly, Bristo Square – Basil Brush's Family Fun Show (p.32) and nightly adult chat show Basil Brush: Unleashed (p.69). Also hosting a chat show this year is actor and TV presenter Christopher Biggins in Late Lunch with Biggins(Pleasance Dome, p.303). LBC broadcaster and CNN commentator Iain Dale brings his incisive insight on current affairs to the Fringe for the first time in Iain Dale: All Talk (Gilded Balloon Teviot, p.301), with special guests including Nicola Sturgeon, Sadiq Khan and Baroness Warsi. World-famous trials rider Danny MacAskill will make his Fringe debut showing off gravity-defying bike tricks in Danny MacAskill's Drop and Roll Live (Underbelly's Circus Hub on the Meadows, p.200). Dr Phil Hammond returns with two medical comedy shows The Great Health Con (theSpace @ Symposium Hall, p.110) and Vote Dr Phil? (theSpace @ Surgeons Hall, p.192).
Fringe favourites from the world of comedy include Nish Kumar with It's in Your Nature to Destroy Yourselves (Assembly George Square, p.154); Reginald D Hunter in The Brand-New, Full-Throated Adventures of Reginald D Hunter (Pleasance Courtyard, p.76); and Shappi Khorsandi with Skittish Warrior… Confessions of a Club Comic (The Stand Comedy Club, p.173). Following sell-out international tour dates, Scottish comedian Daniel Sloss brings his hit show X (p.89) to the Edinburgh Playhouse, while leading celebrity impressionist and actress Ronni Ancona joins forces with Dead Ringers'Lewis Macleod in Just Checking In (Gilded Balloon at the Museum, p.166).
A host of UK comedians are trying out new material in Edinburgh this August with a variety of work in progress shows. Alongside Eddie Izzard in Expectations of Great Expectations (Assembly George Square Studios, p.339), which sees the actor and comedian perform his own version of Charles Dickens' classic Great Expectations, are stand-up works in progress by Omid Djalili (The Stand's New Town Theatre, p.156); Nina Conti (Pleasance Courtyard, p.153); Stephen K Amos (The Stand Comedy Club, p.180); and Russell Howard (Heroes @ The Hive, p.168).
UPCOMING TALENT
Yuriko Kotani: Somosomo (Pleasance Courtyard, p.195) is the highly anticipated debut show from the UK-based Japanese comedian and former BBC New Comedy Award winner. The secret lives of the rich and famous are revealed inNaomi McDonald: Copycat (Just the Tonic at The Caves, p.151) through her celebrity impressions and spoof songs.Konstantin Kisin: Orwell That Ends Well (Gilded Balloon Teviot) is the Russian-British comedian and podcaster's debut show, taking an uncompromising look at freedom of expression and 'wokeness'.
American comedian Courtney Pauroso makes her Edinburgh debut in Gutterplum (Underbelly Cowgate, p.86), which has been developed with Dr Brown and combines character clowning, burlesque and feminist allegory. In Caitlin Cook: Death Wish (Just the Tonic at The Grassmarket Centre, p.77), Caitlin uses stand-up and musical comedy to explain why when something scares her, she has to do it. Fresh from taking the Director's Choice Award at the 2019 Melbourne International Comedy Festival, Australian comedian Aaron Chen performs his debut hour Piss Off (Just Kidding) (Pleasance Courtyard, p.52).
Fringe shows from rising stars of Scottish comedy include Marjolein Robertson: Da Shetland Spree (The Stand Comedy Club 2, p.143) featuring the Shetland comedian's observations on what life is like 60 degrees north; Pretty Shy for a White Guy (The Stand Comedy Club 3 & 4, p.167), the long-awaited debut Fringe show by the Scottish Comedian of the Year 2018 finalist Ross Leslie; and Funny Women runner-up Susan Riddell's first solo Fringe show Duvet Day (Monkey Barrel Comedy, p.183), which champions laziness in an increasingly manic world.
Theatre PR turned playwright Anoushka Warden performs in her debut play My Mum's a Twat (Summerhall, p.375), about losing her mother to a cult. Splintered (Bedlam Theatre, p.395), the first play written and devised by rising theatre director Emily Aboud, celebrates being queer and Caribbean. Having been called "one to watch" by The Observer, award-winning writer Jemima Foxtrot brings Cactus (PBH's Free Fringe @ Bar Bados Complex, p.297), a solo show featuring poems and songs exploring confessional art and modern life.
KEY THEMES IN 2019
Environment and climate change
Global warming and the effects on our planet are high on the agenda at this year's Fringe. The IPCC report is being read in full by 100 different people during 1.5 Degrees Live! (Greenside @ Infirmary Street, p.216), a 50-hour event spread over five days. Actor and activist Sam Haygarth talks global warming, protests and being arrested in his comedy show Climate Crisis (Just the Tonic @ The Mash House, p.169). Award-winning Canadian science journalist Alanna Mitchell performs Sea Sick (CanadaHub @ Kings Hall in Association with Summerhall, p.389), a production about climate change and the effects on the ocean. Sibling rifts set against the backdrop of a melting Alaskan tundra are explored in Tallulah Brown's new playWhen the Birds Come (Underbelly, Cowgate, p.412). Below the Blanket (Royal Botanic Garden, p.217) features art installations about blanket bog in the Scottish Highlands and how it helps to reduce climate change. Pop-up environmental-themed venue The Greenhouse by Pleasance at Dynamic Earth will host shows ranging from BoxedIn Theatre Presents: Symbiosis (p.199), which explores our connection with the natural world by combining poetry and contemporary dance, toHow to Save a Rock (p.355), a carbon-neutral comedy powered by bike and solar power.
Migration
Many stories of migration feature in the 2019 Fringe programme. Pizza Shop Heroes (Summerhall, p.382) is performed by four former child-refugees from Afghanistan, Eritrea and Albania who came to live in the UK; How Not to Drown (Traverse, p.354) is the true story of Dritan Kastrati, who journeyed to the UK as an 11 year old in the aftermath of the Balkans war, ending up in the British care system. Comedians also explore the topic of migration and their own experiences in shows such as Immigrant Diaries – Sajeela Kershi and Guests (The Stand Comedy Club 3 & 4, p.116) and Ishi Khan: I'mMigrant! (Laughing Horse @ The Cuckoo's Nest, p.118). There She Is (PQA Venues @Riddle's Court, p.401) is a surreal exploration of migration told through the story of a beached whale in London. Music, text, photography and animation combine in Miss AmeriKa (Summerhall, p.371), a show about a Czech woman's experience of immigration, loneliness and dislocation on coming to America. Kooch (Paradise in Augustines, p.287) brings together music from around Iran that evokes the migration experience. The award-winning A Migrant's Son (Imagination Workshop, p.26) is a tale of migration from Greece to Australia during the 1930s, with guests being treated to a Greek feast during the show.
Space
2019 marks the 50th anniversary of the first moon landing, and many shows at this year's Fringe examine themes of space exploration and astronomy. Apollo 11 (Greenside @ Infirmary Street, p.315) is a historical recreation of the British broadcast of the moon landing; while conspiracy theories about the moon landings are explored in modern farce Apollo: Take 111(ZOO Southside – Studio, p.315). The story of Valentina Tereshkova, the first woman in space, is told in Chaika: First Woman in Space (theSpace on North Bridge, p.327), and she is also one of the female astronauts who inspires intergalactic children's adventure Valentina's Galaxy (Royal Botanic Garden, p.48). Meanwhile, Yuri Gagarin, the first man in space, is the subject of humorous musical Space Junk: A Soviet Musical (theSpace @ Surgeons Hall, p.292).Acclaimed theatre artist Thaddeus Phillips takes audiences on a theatrical odyssey through the cosmos in Inflatable Space(Assembly Roxy, p.357). The Art of Skipping (Greenside @ Nicolson Square, p.283) is a musical following a budding astronomer as she navigates the stars while battling through the early stages of blindness. Rocket Girl (Underbelly, Cowgate, p.45), set in 1969, uses storytelling, puppetry and movement to tell the tale of an eight-year-old girl inspired by the moon landings and her hopes of becoming an astronaut. Isa Bonachera: The Great Emptiness (Gilded Balloon at Old Tolbooth Market, p.118) sees the BBC New Comedy Award finalist take audiences on a tour of the cosmos and her broken dreams of going into space.
Indigenous work
The experiences of Indigenous societies are portrayed in a diverse range of performances at this year's Fringe. Canada is the focus of performance-based installation This Time it Will Be Different (Summerhall, p.402), which takes a critical look at Canadian government inquiries into the treatment of Indigenous people. CanadaHub @ Kings Hall is partnering with Indigenous Contemporary Scene (ICS), a platform for the presentation of live arts by Indigenous artists, with shows includingDeer Woman (p.334) a solo play highlighting the country's 1,600 missing and murdered Indigenous women through the story of a woman searching for her sister. The Battle of Kuamo'o (Underbelly, Central Hall, p.283) is an opera that uses hula, chant and song to dramatise the fateful battle between Hawai'i's ancient religion and the newly introduced Christianity. In Modern Maori Quartet: Two Worlds (Assembly George Square Studios, p.372), the award-winning quartet from New Zealand weave together stories that portray Maori musical culture and explore what it really means to be Maori today.Native Girl Syndrome (Summerhall, p.375) chronicles a young woman's journey from a remote First Nations community to living in an unfamiliar urban environment; while TERRAtory (Greenside @ Nicolson Square, p.400) questions our post-colonial existence with a character looking back through her ancestry to 16th-century Hispaniola.
Death and grief
Performers at this year's Fringe depict the different experiences of people who are grieving or facing death themselves. The Chosen (Dance Base, p.200), by Scottish-based Company Chordelia, uses dance to look at how we choose to live when faced with dying. I Run (Pleasance Courtyard, p.356) is a Danish one-man play performed on a treadmill about a father who starts running to deal with the death of his young daughter. Experiencing grief while living with autism is explored in 50 Words (Paradise in the Vault, p.311); Ticker (Underbelly, Cowgate, p.403) follows a young man coping with the unexpected death of the woman he loves; while Leave a Message (Gilded Balloon Patter Hoose, p.362) is about a character travelling to the scene of his father's demise. Spoken word theatre piece The 900 Club (Scottish Poetry Library, p.296) deals with long-term grief through the story of four people meeting five years after the death of their friend. Music, animation and puppetry combine to tell a tale of ageing, loss and undying love in The Gray Cat and the Flounder (Assembly George Square Studios, p.350). My Mate Dave Died (C venues – C aquila, p.374) is a tragicomedy looking at what life would be like if our loved ones didn't leave us after dying; and comedian Amy Matthews explores the need for escapism after being touched by death in The Life Aquatic with Amy Matthews (Monkey Barrel Comedy, p.61). A Wake in Progress(Underbelly, Cowgate, p.410) combines scripted scenes and audience interaction to tell the story of a young person who is dying and planning their funeral party.
Body image and body positivity
Shows exploring body image and body positivity include Beach Body Ready (Pleasance Courtyard, p.318) which challenges the media's obsession with achieving the perfect summer physique; and Tea?… With Milk (theSpace @ Surgeons Hall, p.400), which follows a fictional podcast presented by two characters who have grown up seeing shaming adverts that criticise women's bodies. In Fatty Fat Fat (Pleasance Courtyard, p.341) performer Katie Greenall explores what it's like to live in a body that people can't help having an opinion on; and comedian Michael Livesley describes his experiences of trying to lose half his body weight in Half the Man (Laughing Horse @ The Free Sisters, p.111). The realities of living with eating disorders, from binge eating to diabulimia, are portrayed in Want Some More (theSpace on the Mile, p.410). Critically acclaimed Italian show The Perfect Body (PQA Venues @Riddle's Court, p.381) responds to the vicious cycle of industrial food production and societal obsessions over healthy eating and fitness. Comedian Richard Stott explores body image, mental health and disability in an image-obsessed world in his debut show Right Hand Man (Gilded Balloon Teviot, p.165); while Scottee: Fat Blokes (Assembly George Square Studios, p.212) is a "sort of dance show" exploring fat queer masculinity. Scottish choreographer Colette Sadler depicts a post-human future where bodies have no purpose and are on the verge of disappearance in Learning from the Future (Dance Base, p.207).
True crime
The world's fascination with true crime is reflected in this year's Fringe programme. An all-female cast feature in Bible John(Pleasance Courtyard, p.320), a play about four women in 2019 obsessed with finding out the identity of the 1960s Glasgow serial killer. Drowning (Pleasance Courtyard, p.338) is about four Austrian nurses who were charged with murdering 49 patients in their beds in 1991; and Father of Lies (Sweet Novotel, p.341) explores an unsolved murder in West Germany in 1973. In Voice of Authority (theSpace @ Surgeons Hall, p.409), Dean Temple shares his experiences of being sued by the US Department of Justice for $19 million. Pulitzer Prize finalist Dael Orlandersmith's play Until the Flood (Traverse Theatre, 408) is based on interviews with Missouri residents after the shooting of African American teenager Michael Brown by police officer Darren Wilson. A rural American community for sex offenders is the subject of verbatim theatre piece America is Hard to See (Underbelly, Cowgate, p.314); while, in The Loose Canon (Underbelly, Bristo Square, p.133), Langston Kerman explores the unexpected revelations that come from living with a convicted sex offender. The Incident Room(Pleasance Courtyard, p.357), set in 1975 Leeds, is a forensic examination of the police hunt for the Yorkshire Ripper. InMaking a Murderer: Part 2 (The Stand's New Town Theatre, p.304) the lawyers of wrongly convicted Brendan Dassey, subject of the hit Netflix documentary, discuss coerced and false confessions. Adding some humour to the genre is Crime of the Hour (Greenside @ Infirmary Street, p.86), a true crime-themed comedy improv show which uses facts from famous crimes to create original scenes.
Black, Asian and Minority Ethnic identity
Sex, language, gender and race are explored in spoken word show 4 BROWN GIRLS WHO WRITE (Gilded Balloon at Old Tolbooth Market, p.296). In Accidental Coconut (Just the Tonic at Marlin's Wynd, p.154) Kenyan-born, UK-based comedian Njambi McGrath looks at identity from the other side of the British empire. Stand-up comedian Dharmander Singh takes a humorous journey into nationality and identity in Bollywood and Birmingham to Berlin and Brexit (Laughing Horse, p.76). Actress Phina Oruche plays nine different characters in Identity Crisis (C venues – C aquila, p.356), based on her observations of what others have made of her black identity. Aussiental (Laughing Horse @ The Free Sisters, p.67) is comedian Arnie Pie's new show about "how conflicting it was growing up in Australia as an Oriental". At Dance Base, shows include Claricia Parinussa's immersive performance Odyseaa (Dance Base, p.209) which is designed to unravel expectations; while Born to Manifest (p.198) is a piece of hip hop dance that looks into the experiences of young black British men. In Ken Cheng: To All the Racists I've Blocked Before (Bedlam Theatre, p.132), British-born Chinese comedian Ken explores racism in all its forms, including racist comments he has received from Twitter trolls. FOC It Up: The Femmes of Colour Comedy Club (Gilded Balloon Patter Hoose, p.102) celebrates the perspectives of comedians of colour who identify as women, non-binary or feminine-of-centre. Rachael Young and her band embrace Afrofuturism and the cult of Grace Jones in NIGHTCLUBBING (Summerhall, p.376); Seke Chimutengwende and Alexandrina Hemsley present 'an afrofuturist history of the universe' in Black Holes (ZOO Southside, p.320).
Exploring sex and sexuality
Sex and sexuality are the subjects of plethora of shows at this year's Fringe. Misspelled Youth (PBH's Free Fringe @ Bar Bados Complex, p.148) combines storytelling, clowning and cabaret to tell stories of coming-of-age sexual awakenings and queer adolescence; in Sex Education (Summerhall, p.390), Harry Clayton-Wright shares his parents' polarised reactions to him coming out, with one refusing to talk about it and the other buying him gay porn DVDs. The funny side of sex is explored in 2 Clowns 1 Cup (Greenside @ Infirmary Street, p310); while, in I'm Coming (Sweet Grassmarket, p.116), comedian Molly Brenner discusses orgasms and a health issue that stopped her from having them. Nathaniel Hall is challenging stigma and misconceptions with First Time (Summerhall, p.162), his funny and frank autobiographical solo show about contracting HIV the first time he had sex. Award-winning cabaret performer Amber Topaz combines musical numbers and biological facts in The Rude Awakening: Sex, Shame and Liberation (PBH's Free Fringe @ Voodoo Rooms, p.28). Ask A Stripper (Heroes @ Bob's BlundaBus, p.12) sees Gypsy Charms and Stacey Clare provide an X-rated exposé of their industry. John Pendal: Monster (Gilded Balloon Teviot, p.126) looks at the longstanding emotional effects of gay conversion therapy; while A Crown of Laurels (Paradise in Augustines, p.332) is an original musical that reframes the classical Daphne and Apollo narrative in a modern exploration of rape culture.
PROGRAMME GENRES
Cabaret and variety
Magical Bones: Black Magic (Underbelly, Bristo Square, p.25) sees the performer bring his blend of breakdancing and street magic to Edinburgh for the first time; and drag prince Alfie Ordinary also makes his Edinburgh debut with his award-winning show Help! I Think I Might Be Fabulous (Gilded Balloon Rose Theatre, p.20). Bait: Kill the Princess (Heroes @ The SpiegelYurt, p.13) mixes clowning with spoken word to ask if you can be feminine and a feminist. Folk-punk-cabaret actAccordion Fight Show (Sweet Grassmarket, p.12) returns to the Fringe with new songs and shenanigans; while award-winning cabaret show Blues and Burlesque (The Voodoo Rooms, p.14) offers its unique a blend of music, comedy and burlesque. Andrea Spisto: Butch Princesa (Heroes @ The SpiegelYurt, p.12) explores gender boundaries and politics through character comedy, dance and Latin beats. Fresh from an award-winning run in Adelaide, Michelle Pearson, Australia's singing cook, brings her musical food cabaret show Just Desserts (Underbelly Cowgate, p.23). Theremin player Hypnotique explores the weird and wonderful world of electronic music in Hypnotique Presents: Totally Wired (Sweet Grassmarket, p.21). The Electric Cabaret (C venues – C aquila, p.18) is an alternative late-night experience blending comedy, circus, music and speciality acts from across the Fringe.
Children's shows
Mr. Men and Little Miss On Stage (Underbelly, George Square, p.44) sees the stars of the world-famous book series leap off the page and onto the stage; while, in Wallace & Gromit's Musical Marvels (Pleasance at EICC, p.48), Wallace performs his musical masterpiece "My Concerto in Ee Lad", with help from faithful companion Gromit and a live orchestra.Dexter and Winter's Detective Agency (ROUNDABOUT @ Summerhall, p.36) is a mad-cap adventure story by Nathan Bryon who has written for children's TV shows including Rastamouse. Award-winning Scottish author Stuart Reid explores eggy explosions, big bottom burps and his fear of farts in Fantastic Flatulence and Where to Find It (Laughing Horse @ The Free Sisters, p.37). Glimpsing Air Pockets (Dance Base, p.204) is a multi-sensory production created by dance artist Christina Liddell in partnership with the Edinburgh Sick Kids Hospital. In Wee Seals and Selkies (Scottish Storytelling Centre, p.49), award-winning children's author Janis Mackay tells enchanting tales of the northern seashore, accompanied by live fiddle music. Join a tap-dancing coffee bean on her adventures across the world in brand-new interactive showTappuccino (Gilded Balloon Teviot, p.48); and get ready to sing and dance along at Comète (Assembly Checkpoint, p.35), a live rock concert for curious kids and nostalgic parents.
Dance, physical theatre & circus
Acrobats, comic performers and variety acts combine in wild west inspired Atomic Saloon Show (Assembly George Square Gardens, p.197) which is performing a run at the Fringe before taking up residency on the Las Vegas Strip. Le Coup(Underbelly's Circus Hub on the Meadows, p.207) brings its audience into the world's last travelling boxing tent with some hard-hitting acrobatics. Coming to the UK for the first time is The Black Blues Brothers (Assembly Rooms, p.198), an African circus tribute to the cult film. Along (C venues – C south, p.196) is a contemporary kung fu circus show from Hong Kong; and Staged (Zoo Southside, p.212) by experimental circus group Circumference features three performers on a tilting aerial platform. For now we see through a mirror, darkly (Greenside @ Nicolson Sq, p.203) is a mystical dance performance about the connection between what we see and what we believe; while Ariadna (C venues – C aquila, p.197) is a devised physical theatre piece exploring the labyrinths in which modern people roam. Untouchable (theSpace on the Mile, p.214) uses dance to tell the story of human trafficking globally and the effect war has on a family. At Dance Base,Seeking Unicorns (p.212) sees Italian artist Chiara Bersani embracing and illuminating the long-distorted identity of the mythical creature; while Lost Dog Dance's Juliet and Romeo (p.206) is a comedic reimaging in which the famous lovers didn't die and are now grownup 40-somethings, haunted by the pressures of being the poster couple for romantic love.
Music
Dougie MacLean in Concert (The Brunton, p.251) is a performance by the Scottish singer/songwriter internationally renowned for his song Caledonia; while An Audience With Kyle Falconer (The Old Dr Bells Baths, p.241) offers the chance to hear acoustic songs and stories from The View frontman. At The Queen's Hall, celebrated fiddle band Blazin' Fiddles will be joined by the twice-voted Scots Singer of the Year Emily Smith in Blazin' Fiddles with Emily Smith (p.243). The Jazz Bar's programme of shows includes Cat Loud Quartet: Torch Songs (p.246) performing songs of heartbreak by classic and contemporary women of jazz; and 58 Fordwych Road – Nick Harper (p.234), which sees the son of Roy Harper play songs of the acoustic legends that dropped by the family home in the Swinging 60s. Singer Mary May and her top-drawer band are joined by virtuoso guitarist Graeme Stephen in Songs from Almodóvar Films (Leith Depot, p.276), performing jazz and Latin songs from the acclaimed director's film soundtracks. The Piano Women (Pianodrome at the Pitt, p.269) sees Australian pianist Emma Knights perform the works of some of the greatest female pianists including Nina Simone, Carole King and Clara Schumann. Kimchi: Life is a Happy Dream (C venues – C south, p.262) is an interactive show from Korea combing innovative contemporary instruments and traditional musical underscoring. Mezzo: Something Borrowed, Something Blue (Acoustic Music Centre @ UCC, p.265) features six Norwegian voices performing a cappella arrangements of pop, Scandinavian folk music and classical pieces.
Musicals and opera
90s nostalgia is celebrated in Cruel Intentions: The '90s Musical (Assembly George Square Gardens, p.284). Tokyo Rose(Underbelly, Cowgate, p.403) is a rap musical telling the story of Iva d'Aquino, who was on trial for treason in America in 1949; while MacPherson's Rant (The Old Dr Bells Baths, p.288) is the tale of Scottish outlaw James MacPherson and the tragic love story that led to his hanging, set to iconic Scottish music. The untold story of female codebreakers in America during World War II is the subject of all-female musical Enigma (Greenside @ Nicolson Square, p.284). Elizabethan(theSpace @ Surgeons Hall, p.384) is a new musical comedy based on genuine Renaissance songs featuring love stories and lute playing. Operatic soprano Louise Geller performs a selection of comedy arias in The Comedy of Operas(Greenside @ Infirmary Street, p.284); while Love Me Out: The Opera (theSpace on the Mile, p.288) is an innovative re-imagining of Mozart's classic opera Cosi Fan Tutte set on the island of Ferrando.
Spoken word
Orwell Prize-winning author Darren McGarvey, AKA Loki the Scottish rapper, offers his take on the state of the nation inScotland Today (The Stand's New Town Theatre, p.307). The UK's only entirely autistic theatre company returns to the Fringe with Stealth Aspies – Aspies Anonymous (Laughing Horse @ Finnegan's Wake, p.308). In Cat Hepburn: #GIRLHOOD (Gilded Balloon Rose Theatre, p.298) award-winning spoken word artist Cat's debuts the stage adaptation of her poetry book; while Employ Me, You Cowards! (Scottish Poetry Library, p.300), performed by Ross McCleary, is a poetry show about job interviews, temping and LinkedIn. The Amazing Dyslexic Poetry Show (Lauriston Halls, p.296) is award-winning performance poet Sam Rapp's first time at the Fringe. Canadian poet Rose Condo delves into tech addiction and compassion in The Empathy Experiment (PBH's Free Fringe @ Banshee Labyrinth); and a group of poets deliver their strategy on navigating the world's bleak political landscape in A Poet's Guide to Surviving the Apocalypse (Laughing Horse @ The Place p.296). Danish storyteller Svend-Erik Engh and Scottish musician Neil Sutcliffe perform Walk the Oars(Scottish Storytelling Centre, P.309), inspired by the Vikings' arrival in Scotland. Panmure House, the former residence of economist Adam Smith, is the venue for The Butcher, the Brewer, the Baker… and the Commentator (p.297) which sees MoneyWeek columnists Merryn Somerset Webb and Dominic Frisby question a panel of finance and politics gurus. The Stand's New Town Theatre returns with its In Conversation With… series, which includes political figures Scotland's First Minister Nicola Sturgeon (p.302) and Ruth Davidson MSP (p.303); and crime writers Val McDermid (p.303) and Ian Rankin (p.302).
Free and Pay What You Want shows
There are 706 free shows and 404 Pay What You Want shows in this year's programme. A different line-up of professional philosophers join forces with comedians every day in Stand-Up Philosophy (Laughing Horse @ Counting House, p.179).Meatball Séance (PBH's Free Fringe @ Bar Bados, p.369) is an interactive comedy about a young man cooking his mother's meatballs to summon her from the dead so she can meet his boyfriend. Kefi: Reggetiko (Laughing Horse @ Finnegans Wake, p.261) mixes feelgood storytelling with urban Greek folk and dub-inspired tunes. 2018 So You Think You're Funny semi-finalists Amy Xander and Ginnia Cheng try to become more cosmopolitan in Babes / Pigs in the City (Laughing Horse @ The Free Sisters, p.68); while former Doctors actress Andrea Gordon's semi-autobiographical one-woman showThe Afterlife of a Soap Star (Laughing Horse @ The Cuckoo's Nest, p.56) depicts the madness of the media. Following sold-out shows in their native Bristol, Chubby White's Variety Night (Just the Tonic at The Caves, p.82) make their Fringe debut, depicting the absurdist adventures of a mythical 1970s comedian. A Scottish Perspective (Alpha Art Gallery, p.232) is an exhibition of internationally acclaimed Scottish artists and young emerging talent; while Chinese Arts and Culture Festival (Venue150 at EICC, p.218) offers exhibitions and workshops featuring Adult and youth performers presenting traditional and modern works. Highlight Tours of St Cecilia's Hall (St Cecilia's Hall, p. 230) offers a chance to see inside Scotland's oldest concert hall and hear some of the historical musical instruments on display. Simply Bowie (Frankenstein Pub, p.274) sees West End performer Oliver Darley with jazz pianist Chad Lelong give their renditions of David Bowie songs. Shiva Tandava (p.212) brings Bharatnatyam, a traditional Indian dance, to Greyfriars Kirk in a display of vibrant costumes and vigorous dance steps performed to soulful music.
MADE IN SCOTLAND
The Made in Scotland programme – a collaboration between the Fringe Society, the Federation of Scottish Theatre, Scottish Music Centre and Creative Scotland – continues to showcase the best in homegrown dance, theatre and music, with 22 shows throughout August. The showcase comes hot on the heels of this year's inaugural Made in Scotland Festival, which saw six previously supported shows from the programme presented in Brussels in June.
The programme this August includes Scottish-Kenyan storyteller Mara Menzies' exploration of the legacy of colonialism and slavery in Blood and Gold (Scottish Storytelling Centre, p.322); and Meghan Tyler's Crocodile Fever (Traverse Theatre, p.332), a black comedy set in 1980s Northern Ireland. Candoco Dance Company's Joel Brown and former Scottish Ballet principal dancer Eve Mutso explore their different strengths and vulnerabilities in 111 (Greenside @ Nicolson Square, p.196); while Robbie Synge and Lucy Boyes' Ensemble (Dance Base, p.202) features a multi-generational cast of dancers aged 30s to 70s. Last year's custom-built auditorium Pianodrome returns with #Pianodrome Live (Pianodrome at the Pitt, p.269), a festival-within-the-festival programme of live music in a venue made from upcycled pianos; while Sophie Rocks' Notes from Shetland to Shanghai (theSpace on the Mile, p.267) uses both traditional and contemporary music to explore migration from several national perspectives.
BRITISH COUNCIL SHOWCASE
The biennial British Council Showcase returns in 2019 with productions that shine a light on the UK's theatre and dance talent. Performance artist Travis Alabanza considers trans bodies and thrown foodstuffs in Burgerz (Traverse Theatre, p.326). In MOOT MOOT (Summerhall, p.372), Rosana Cade and Ivor MacAskill explore debates and echo chambers through the medium of a surreal phone-in talk show. Not Today's Yesterday (ZOO Southside, p.208) blends techniques from Bharatanatyam, contemporary dance & theatre to explore how power is wielded by the whitewashing of history. Choreographer Chisato Minamimura explores the stories of the deaf 'hibakusha', survivors of the 1945 atom bombs, in the multimedia performance Scored in Silence (Greenside @ Nicolson Square, p.211); and Amy Bell's The Forecast (Dance Base, p. 203) mixes movement with text, animation and live sound in its recollection of being "the only dyke in the dance class".
INTERNATIONAL WORK
Performers from a record 63 countries will be travelling to the Fringe this year, with many return visitors. Canada Hub @ King's Hall in association with Summerhall is back, with shows including Indigenous Contemporary Scene's Kanata Cabaret Hour (p.23); and theatre show Pathetic Fallacy (p.380), which looks at how society processes extreme weather events. The Canadian province of Québec also has a standalone strand, with shows such as Blizzard (Assembly Hall, p.198), a wintry physical theatre piece by FLIP Fabrique; and live music show The Scots Musical Museum: Sea Shanty Sing-Along Concert (artSpace@StMarks, p.273).
Returning to Edinburgh for its eighth year is Finland's From Start to Finnish programme, featuring Tove Appelgren's Honey(ZOO Playground, p.354), a solo show about the various roles of motherhood; and Ali and Alpo (Summerhall, p.196), a contemporary Finnish dance performance set to traditional Iraqi music. The Swiss Selection at Summerhall include Mats Staub's video installation 21 (p.228), a show about nostalgia and memory; and solo performances Traumboy and Traumgirl(p.404), which focus on the experiences of male and female sex workers. From France, a cowboy journeys through the digital space in Worldwidewestern (French Institute, p.414); and a 1970s Parisian chanteuse debates whether to use her fame for political ends in A Voice (C venues – C cubed, p.409). Italy's offerings include a virtuoso guitar recital from Chitarra Giocosa (Valvona & Crolla, p. 248); and interactive children's show Me and the Mask – Commedia dell'Arte (Italian Cultural Institute, p.42) performing a selection of Commedia dell'arte characters. Sven Verelst's family-friendly physical theatre show, Writings of Ernest Holst (Venue 13, p.215), is part of the Belgian showcase at the Fringe; as is (L)awfully Wedded (Arthur Conan Doyle Centre, p.136), an improvised comedy from husband-and-wife performers Kenny De Maertelaere and Katrien Vandepitte. And from the Ukraine, INTERBEING – Stories from a Current War (Assembly Rooms, p.205) uses input from real soldiers to convey a sense of human conflict; while Misanthrope Theatre stages a radical retelling of Alfred Jarry's infamous Macbeth parody Ubu the King (C venues – C south, p.406).
From Asia, Hong Kong's Fighting Blues group presents Yellow Submarine (C venues – C south, p.215), an environmental adventure featuring fire play and circus skills; and the Q-fun Children Theater presents The King of Ghosts: Zhong Kui(theSpace on the Mile, p.40) as part of the 2019 China season. The Taiwan Season features Floating Flowers (Dance Base, p.213), a Buddhism-inspired mix of martial arts, classical ballet, folk dance and contemporary movement; and Yen-Cheng Liu's dance production Monster (Dance Base, p.213), an exploration of selfhood and identity. From Korea, there are performances of children's show The Happy Prince (C venues – C aquila, p.39); and Korean Poetry Series Part 1(Acoustic Music Centre @ UCC, p.262), which combines diverse musical instruments from both eastern and western culture. And from Japan, there's a chance to see pianist Akiko Okamoto in Concert (St Andrew's and St George's West, George St, p.237), with a programme of pieces by Chopin, Tchaikovsky and Beethoven; while Tokyo stand-up Kilara Sen takes the stage for Japanese Sweet Wasabi: No Mask Required! (Laughing Horse @ The Place, p.121).
A variety of acts from Australasia are being showcased during the Fringe, starting with several shows from our sister fringe in Adelaide. These include Idris Stanton – Wham Glam Circus Man! (PBH's Free Fringe @ Liquid Room Annexe/Warehouse, p.21), a mix of magic, music, comedy and circus set to a rock and roll soundtrack; and Chameleon(ZOO Playground, p.327), a physical theatre/clown show satirising gender dynamics, stereotypes and social pressures. Beyond Adelaide, the wider Australian contingent includes Brisbane duo Act/React, whose Love/Hate Actually (Imagination Workshop, p.140) debates the merits of the (in)famous romcom; while Melbourne's Neil Adam and Judy Turner pay musical tribute to one of Edinburgh's most famous sons in Sing Me a Song: The Robert Louis Stevenson Show (Scottish Storytelling Centre, p. 274). From New Zealand, Bleeding Black (Greenside @ Nicolson Square, p. 321) is a play exploring hyper-masculinity in rugby culture; while the Nelson Youth Theatre Company present their staging of Grease(theSpaceTriplex, p. 285) with actual teenagers.
Much closer to home are two showcase strands from Wales and Northern Ireland. From Wales, Clock Tower Theatre Company presents Adrift (Venue 13, p.312), about three mutineers lost at sea; while dance company iCoDaCo explore political, physical, spatial and psychological transformation in their show, it will come later (ZOO Southside, p.206). In the Northern Ireland strand, A Talking Therapist's Blues (Laughing Horse @ The Brass Monkey, p.308) is a spoken word show from performance poet Tess Adams; while stand-up comic and science communicator Emer Maguire returns with Hilarious Humans (Greenside @ Infirmary Street, p.97).
FRINGE FACTS 2019
Total shows: 3,841
Total venues: 323
Performances: 59,600
Countries represented: 63
International countries: 59
There are 706 free shows, 404 Pay What You Want shows, 2,093 premieres.
There are 963 Scottish shows, with 744 shows coming from Edinburgh.
NOTES TO EDITORS
The 2019 Edinburgh Festival Fringe will run from 02 – 26 August.
If you require a full list of shows related to the themes mentioned in this media release, or are interested in other themes or feature ideas, please contact the Fringe Media Office.
media@edfringe.com / +44 (0)131 240 1919.
The Edinburgh Festival Fringe Society is a charity that was established by artists to act as the custodian of the Fringe. We exist to support and encourage everyone who wants to participate in the Fringe; to provide information and assistance to audiences; and to promote the Fringe and what it stands for all over the world. Based on the Royal Mile in Edinburgh, the Society has a full-time team of just over 30 people, who work year-round to assist all the artists and audiences who make up the world's greatest arts festival.
Fringe Central is operated by the Edinburgh Festival Fringe Society and is a home for participants, media and arts industry professionals taking part in the Fringe. Centrally located in Appleton Tower, the centre provides a vibrant events programme, internet access, a cafe, meeting rooms, rehearsal space and staff to give support and advice on taking part in the Fringe, including marketing and media campaigns and how to make the best use of the development opportunities on offer. In 2019, the events programme features over 100 professional and career development events, including a focused strand on health and wellbeing supported by Kickstarter designed to help Fringe participants have a positive experience and get the most out of the Fringe and events developed to provide support for parents at the Fringe. All events are free for registered Fringe participants.
Fringe Central, Appleton Tower, corner of Windmill and Chapel Streets, Edinburgh, EH8 9LE.
The Fringe Media Office @ Fringe Central will be open from 29 July – 26 August from
10:00 – 20:00 BST daily (please note we will close at 18:00 BST on 25 and 26 August).
www.edfringe.com