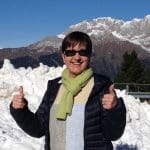 By Grace Hedgley
Bergamo, the birthplace of Donizetti and home of Lorenzo Lotto, is a stunning little city in the Lombardy region of Italy; it lies about 40 km northeast of Milan and 30 km from the lakes Como and Iseo. To the north of the city are the foothills of the Bergamo Alps.
With a population of around 120,000, Bergamo is the fourth-largest city in region.
Bergamo is well connected to several cities in Europe and the Mediterranean through Il Caravaggio International Airport, the third-busiest airport in Italy with 10.5 million passengers in 2015, and the highly impressive A4 Motorway that crosses the axis between Milan, Verona, and Venice.
Ryanair's new flight from Belfast international airport gives you the opportunity to explore this wonderful part of Italy.
Flights leave on a Wednesday and Saturday. www.ryanair.com. I checked the Ryanair site (end Nov) and found return flights in middle January for an amazing £40-00.
Getting to the City
Getting to the city from the airport is really simple and very cheap. The Airport bus, is No 1 and it runs from outside Bergamo airport to Bergamo train station situated in Piazza Marconi.
It then proceeds to the lower town, then onto the Funicular station and then up to the upper town 'Città Alta'. The 20 minute journey is great value at €1.20 approx. Tickets are available at the airport.
Local specialties
Local specialties to try include casonsei; fresh pasta filled with salami, roast meat, garlic, parsley and Grana cheese and served with melted butter, pancetta and sage. For those with a sweeter tooth try the Polenta e Osei, a sweet polenta cake with a chocolate bird on top. Local wines, polenta, pasta and cheese what's not to love?
The two cities
Bergamo is divided into two parts; the lower city, Citta Bassa, and the upper city, Citta Alta. They are connected by a delightful funicular railway, which affords spectacular views as you ascend to the heights of Citta Alta.
At the top Caffe della Funicolare is a fine little café with a terrace where you can get a birds eye view of the city below.
Explore the medieval streets of Citta Alta.
The main street leads to Piazza Vecchia, the beautiful heart of the city, has one of Italy's most ancient libraries along with the 52 meter-high tower, which can be climbed using the many steps or if you prefer there is a lift.
Citta Alta has a host of places to visit so be sure to look out for the treasures in Piazza Duomo, while the Museums in Piazza della Cittadella will give you a great overview of this city's history, science and art treasures.
After visiting the Venetian walls, the main squares of Piazza Vecchia and Piazza Duomo with its Basilica, Baptistery and Cathedral, you will be ready for lunch.
This is a very important meal in Italy, as locals tend to spend the whole afternoon eating and chatting. One place I can recommend for traditional food is Da Mimmo (www.ristorantemimmo.com) this wonderful space has been a restaurant for nearly 60 years and it provides fine, locally sourced, traditional food at very reasonable prices. Excellent service, like most places I found in Bergamo, it was discreet but friendly. There are two connected dining rooms beautifully decorated, spacious and airy. You can read all about the history of Da Mimmo and it's owners, it's obvious they put their heart and soul into what they do.
My first night in Bergamo I stayed at the Hotel Excelsior San Marco. In an excellent location facing an elegant square in the lower town, the hotel is a few steps away from the funicular that goes to the historical Upper Town inside the Medieval Walls.
With a twin room from €90-00 per night it is superbly located and well priced for a city hotel. www.hotelsanmarco.com
For dinner I chose to eat at Mille Storie e Sapori.
Italian food with a twist in a warm and friendly setting with excellent local wines. Buzzing contemporary atmosphere  for a truly authentic Italian meal.
Province of Bergamo
I was in Bergamo for only a short while as I had some exploring to do in the region. My first trip took me to Sarnico this charming town lies on the edge of lake Iseo and is full of little winding streets and local shopping opportunities.
During the summer months this beautiful town turns into a hub for visitors to the lake and surrounding countryside.
I then checked into the 4 star Cocca Hotel in Predore, a few km from Sarnico.
Set on the shores of Lake Iseo, it offers relaxation and comfort in a sophisticated environment with a superb Royal Thai Spa. See www.coccahotel.com.
Predore has wonderful views of the lake and Monte Isola, the largest lake island in Europe. While the locally made Riva launches may be out of your price range, you can still take the ferry to explore Lake Iseo.
Ski Country

The beauty of the ski resorts in Bergamo province is that nearly all are no more than an hour by car from Bergamo. Indeed local school children go skiing as part of their PE programmes from the age of three!
The Bergamask Mountains, which climb directly from the Po valley and reach altitudes of up to three thousand metres, offer summer and winter holiday opportunities.
The 130 downhill pistes are almost all concentrated in the two main valleys that cross the great mountain barrier – Val Brembana and Val Seriana.
The pistes offer almost 400 kilometres of snow; 45 are rated easy, 64 are intermediate, and expert skiers have 21 more difficult slopes on which to test their skills.
There are approximately 70 ski lifts, and everywhere there are quality facilities and services together with cross-country ski trails, toboggan and sled runs, ice-skating rinks and extremely modern snow parks. In fact everything you need for a holiday of sport and fun.
The Ski season opens on the 8th December 2016.
The most well-known ski resort is Foppolo in Valle Brembana. It is surrounded by other ski resorts all located in the upper valley: Carona, San Simone, Piazzatorre, Valtorta Piani di Bobbio, Oltre il Colle Zambla.
The top resort in Valle Seriana is Monte Pora, which has developed over the last few decades; then Lizzola, in a setting of rugged peaks, Spiazzi di Gromo and the Presolana Pass, a "historic" Lombardy ski resort, where at the beginning of the last century people started skiing down the hills watched by bemused mountain inhabitants.
If you are considering a holiday to the region then look no further than: wwwPresolanaholidays.com, where great offers include short breaks, with ski passes, accommodation and return transfers to Bergamo Airport.
When in the area I stayed at the 4 star Hotel Milano in Castione della Presolana, located in the heart of the Bergamask Dolomites, this stunning mountain resort offers the opportunity to chill out, relax and enjoy good food in the most beautiful surroundings.
Agriturismo
The Bergamo region is not just about skiing and cities, there is a very big movement in the travel industry and that is towards Agriturismo.
A fine example of this is the unique Agriturismo Ferdy in Lenna.
Their farm philosophy is based on the breeding of traditional animals, which have always lived in the region. They also provide wonderful eco friendly accommodation to a very high standard, prices from as little as €60 per night. Agriturismo Ferdy offers its guests many activities including cheese making, horse riding, working with animals, exploring on foot and cycling trails. If that all seems like too much hard work then you might want to consider their wellness centre where they only use Agriturismo Ferdy products such as essential oils, all produced in Val d'Inferno. See www.agriturismoferdy.com/
Also worth visiting: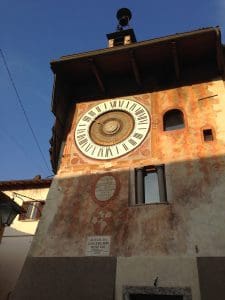 The medieval village of Clusone is beautifully situated. The frescos in the Disciplini Oratory date back to the Middle Age, while the complex astronomical clock is still working in its original state. It has astonished visitors for four hundred years!
Cornello dei Tasso is a fascinating village once the home town of the Tasso Family who established a private mail company which monopolised all postal services in Europe from the 14th century.
They say that San Pellegrino is "the gem of the Brembana Valley", The art nouveau palaces, the Casino, the historical spa with the thermal baths, the San Pellegrino mineral water, renowned all over the world and there's so much more to discover when you get there.
Why not treat yourself ?
A choice of packages can be tailor made for you by QC Terme San Pellegrino to celebrate your hen or stag night, birthday, anniversary or any special moment. www.qctermesanpellegrino.it